Marine Traffic: Best Way to Meet the Ships
Marine Traffic offers ship live map, terrestrial and SAT-AİS coverage, fleet tracking, advanced notifications system, vessels' particulars, vessel pictures and detailed vessel statistics and intelligence.
Marine Traffic is a fantastic website and also application when you can track almost 800 million vessel positions, 18 million vessels and 65,000 marines assets such vessels, lights and 19,790 ports. Ship lovers can be a part of this website by being a member. Members can download the pictures they took. There are 1.7 million vessels pictures in their database. The system assists its users to monitör vessels' movements which can receive 250 million vessel positions daily. It helps users to Schedule their operations by monitoring port traffic such as loading and unloading times. The system is also useful for monitoring weather forecast and analyze routes and voyages. Users also access voyage information such as tracking vessels speed and draught, monitoring estimated time of arrival and receiving weather forecast. The system also helps creating accurate reporting; for example, visiual reporting, itinerary history, port history and port calls. Also many businesses uses the systems for monitoring their vessels' movements and competitorts' routes. In addition, businesses receives accurate reports for their own benefits.
There is also a section where business can sign up and introduce their businesses. There are almost 44,000 firms that are members of this community. These firms are in maritime sectors but they offer different services. The firms serve in brokerage, bunker and oil supplies, cargo shippers, charterers, charterings, charts, chemicals,classification societies, cleaning services, commodity training, container sales and trading, crewing services, diving and underwater services, dredging, energy, engine building, enviromental NGO, fishing, flag administrations, freight forwaders, fresh water supply, heavy lifting, hydrographic services, insurance, logistics, marina, marine equipment suppliers, medical, metals and mining, offshore services, oil and gas suppliers, port authorities, port agents, pilots, publications, ship breakers, ship builders, ship chandlers, ship owners, ship services, ship tracking, surveyors, towate, underwater cable operators, warehousing, waste disposal, weather and routing services and yacht builders, charters and equipment suppliers. As you can see, hundreds of suppliers in the maritime sectors from different service came under one roof and try to do business.
Therefore, this system is not only great in monitoring and tracking ships but it is also wonderful for introducing your company and become a part of this web. This system also helps ship spotters and photographers to go to the point they take their pictures. It assists ship lovers to arrange their schedule and get ready for taking great photos. If you are in the maritime business and a ship lover or photograph, do not lose time and be a part of this great community.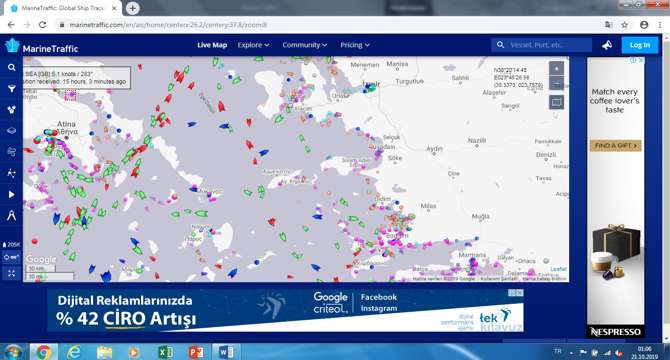 ---
Paylaşın